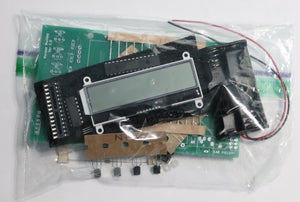 Ham Radio 2.0
Morse Monkey CW Training Kit
Regular price
$95.00
$0.00
Unit price
per
Shipping NOW!
Morse Monkey is a micro controller based kit that is designed to aid in learning Morse code. Using a keyer and earphone, you can identify and practice the Morse Code alphabet and numbers.

The kit comes with the PCB, all parts to install on the PCB, and a pre-programmed micro controller unit (MCU). Assembling will require solder, needle nose pliers, diagonal cutters, and a small screwdriver. Assembly time ranges from 2 hours, to 30 minutes depending on experience level.

Features:
- Practice keying symbols to develop a good rhythm. The unit will attempt to identify the symbol being played and display it.

- Practice keying letters and numbers which the unit presents. The unit will score your success or failure in keying a specific symbol.

- Repeat a symbol which the unit plays back. The unit will score you as you attempt to recreate the Morse symbol you heard.

- Attempt to identify full 2X3 callsigns. Score yourself as you learn to identify callsigns which could be heard over the air.

- Playback speed and keypress duration can be set for three different WPM rates.

Package size is 5" X 7" X 2"
Batteries, Keyer, and earbuds are not included.
---
Share this Product
---